New Hebrides Postal History
These New  Hebrides Postal History covers are displayed with kind permission of SAS/O member Sheryll Ruecker.
See also New Caledonia
Letter to Noumea, 10c inter-colonial letter rate, Vila 7 June 1920 postmark (PCH Type 7).
One of two covers showing earliest recorded use of surcharges. An important item of New  Hebrides Postal History
Nicolas "Tiby" Hagen was well-known as a businessman, plantation owner and entrepreneur in the South Pacific.
---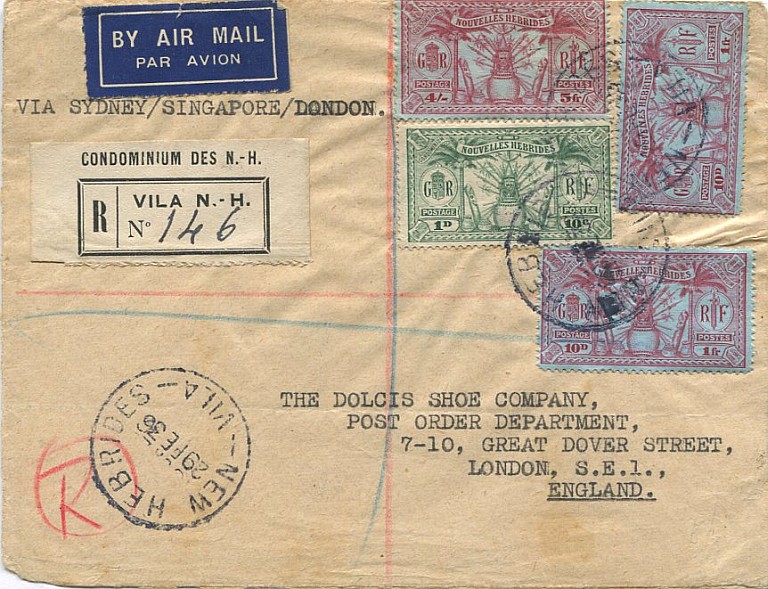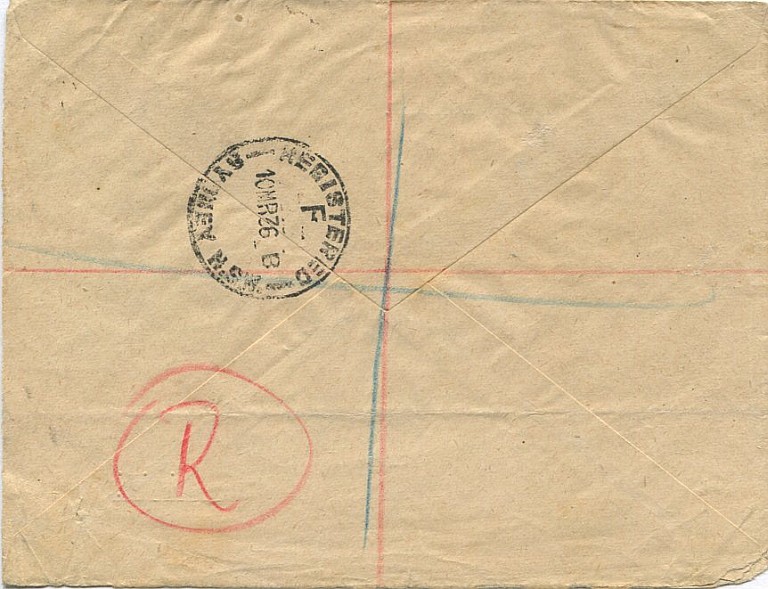 Registered airmail letter to London, via Sydney and Singapore, (registration label type R11 in French), postmarked 29 Feb 1936, backstamped Sydney 10 March 1936.
The airmail rate from Sydney was 1/6 per ½ ounce.
The 5f (4/-) and one of the two1f (10d) stamps total 6f (4/10), and cover the airmail rate for a triple-weight letter (4/6 = 5.6f), leaving 40c plus the 10c value to pay the 50c inter-colonial letter rate.
The remaining 1f value paid the 1f registration rate.
---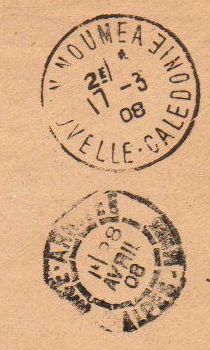 Letter to France, 10c New Caledonia kagu stamp paying the French colonial letter rate, postmarked 15 March 1908, backstamped with Noumea (17 Mar 1908) transit cancel and Nice Alpes Maritimes (28 Apr 1908) receiving cancel.
Charles Dufourmantelle was a paleographer for the island of Corsica. He passed away at Nice on 29 April 1938.
---
This registered letter from Vila, New Hebrides to Rønne, Denmark is postmarked 6 June 1924 (PCH type T7).
Although the new UPU rates of 50 centimes international letter rate and 50 centimes registration had come into effect on 1 May 1924, letters were still franked at the old rates until some time in 1927.
Here we have 6d paying the old 3d foreign letter rate, 3d registration. The stamp is from the British 1921 Multiple Script CA watermark issue. English Type R2 registration label. Backstamped with Ronne (29 July 1924) receiving cancel.
N.F. Gobjerg was a stamp collector from Rønne on the island of Borholm in the Baltic Sea, south of Sweden.