First Experimental Airmail Flights Between U.K. and Australia
Published by kind permission of the Orange County Philatelic Society http://ocphilatelicsociety.org/
In April 1931 the British Post Office decided to try two experimental airmail flights between London and Melbourne, Australia. [The source of this historical information is the New Zealand Stamp Images web site: www.nzstamps.org.uk.]
In 1931, Imperial Airways had a regularly scheduled flight from London to Karachi and Delhi, India. A portion of this "flight" was in fact by rail between Skopje, Macedonia and Salonica, Greece. For the experimental airmail flights, Imperial Airways was to fly the mail on from Karachi to Darwin, Australia. The eastern route to Australia shown on the adjacent 1935 Imperial Airways route map [Reference: Wikipedia: Imperial Airways- Imperial Routes April 1935] is similar to the actual route flown by the 1931 experimental airmail flight. As you can visualize from the map, the east coast of Australia is nearly half way around the world from London. This was a truly daunting distance, especially with the range of contemporary aircraft in 1931.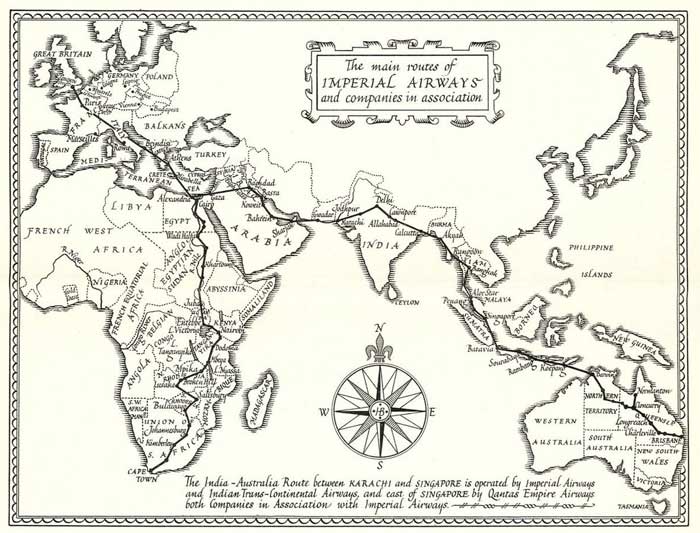 The first flight left London on April 4th; however, the Imperial Airways aircraft City of Cairo crashed in Koepang, Timor, Dutch East Indies on April 19th. As you can see on the map Koepang was the last stop before landfall in Darwin, Northern Territory, Australia. Queensland and Northern Territories Aerial Services (Qantas) was supposed to fly the mail within Australia. Unfortunately, Qantas did not have any multi-engine aircraft suitable for flying the over water route between Darwin and Koepang.
Australian National Airways (ANA) was called on to "rescue the mail". On 21 April, Kingsford Smith and Scotty Allan flew the Southern Cross from Sydney to Koepang, picked up the mail and departed for Darwin on 25 April. Qantas then flew the mail from Darwin to Brisbane on April 27-28 [On the map note the number of scheduled stops between Darwin and Brisbane]. ANA, who had the Brisbane – Sydney and Sydney – Melbourne routes, then flew the mail to Sydney on 29 April and onward to Melbourne the same day.
The return flight left Melbourne on 23 April and Sydney on 24 April on ANA flights and went from Brisbane to Darwin on Qantas arriving on 26 April. The cover in the adjacent figure was an official cover produced by Imperial Airways for these experimental flights.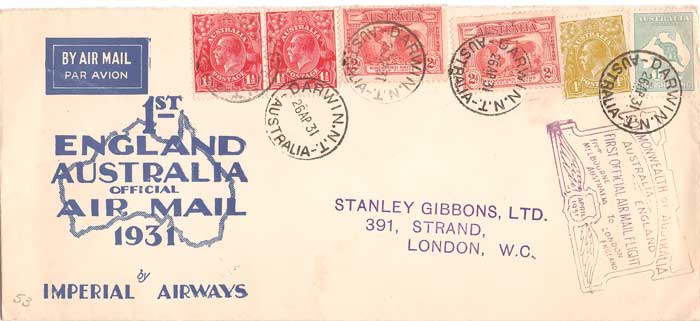 This would appear to be what is referred to as a "Philatelic Cover", since the recipient was Stanley Gibbons, Ltd. in London. It was postmarked on 26 April in Darwin, NT, Australia for transport on the first "Official" Australia to England airmail flight, which left on 27 April. The cover is franked with two #68, 1½ pence George V definitive stamps, two #111, 2 pence Kingsford Smith and the Southern Cross over the hemispheres commemorative stamps, and a 4 pence olive bistre and a one shilling blue green George V definitive stamp. Yes, it is the same Kingsford Smith and Southern Cross aircraft that rescued the mail.
Since Imperial Airways did not have an airplane in Darwin, Kingsford Smith and Scotty Allan from ANA were called on to fly the mail from Darwin to Akyab, Burma. This flight occurred without incident from April 27th to May 3rd. Imperial Airways picked up the mail in Akyab and flew it to Delhi, India. On May 27th the mail arrived in London on the regularly scheduled flight from Delhi.
The second experimental airmail flight left London on 25 April and arrived in Sydney/Melbourne on 14 May without mishap (20 days). The return flight left Melbourne on 15 May and arrived in London on 4 June (21 days).
Qantas and ANA were in competition for what was hoped to be a very lucrative U.K. Australia airmail contract. The next article will feature ANA's attempt to demonstrate their capability to deliver the mail reliably over this route.
It is quite fascinating to take a philatelic item related to one's philatelic area of interest and discover how it relates to both postal history and contemporary history. We are indeed fortunate to have the internet and other reference sources readily available to assist us in this research.
Ken Coulson